The idea of wearing a bra to bed is nothing new. I estimate approximately 6% of women already realize the benefit sleeping in a bra either because they were advised to do so by a buxom relative with ample bosom or are clever enough to understand how the laws of physics will affect their breasts in the long run.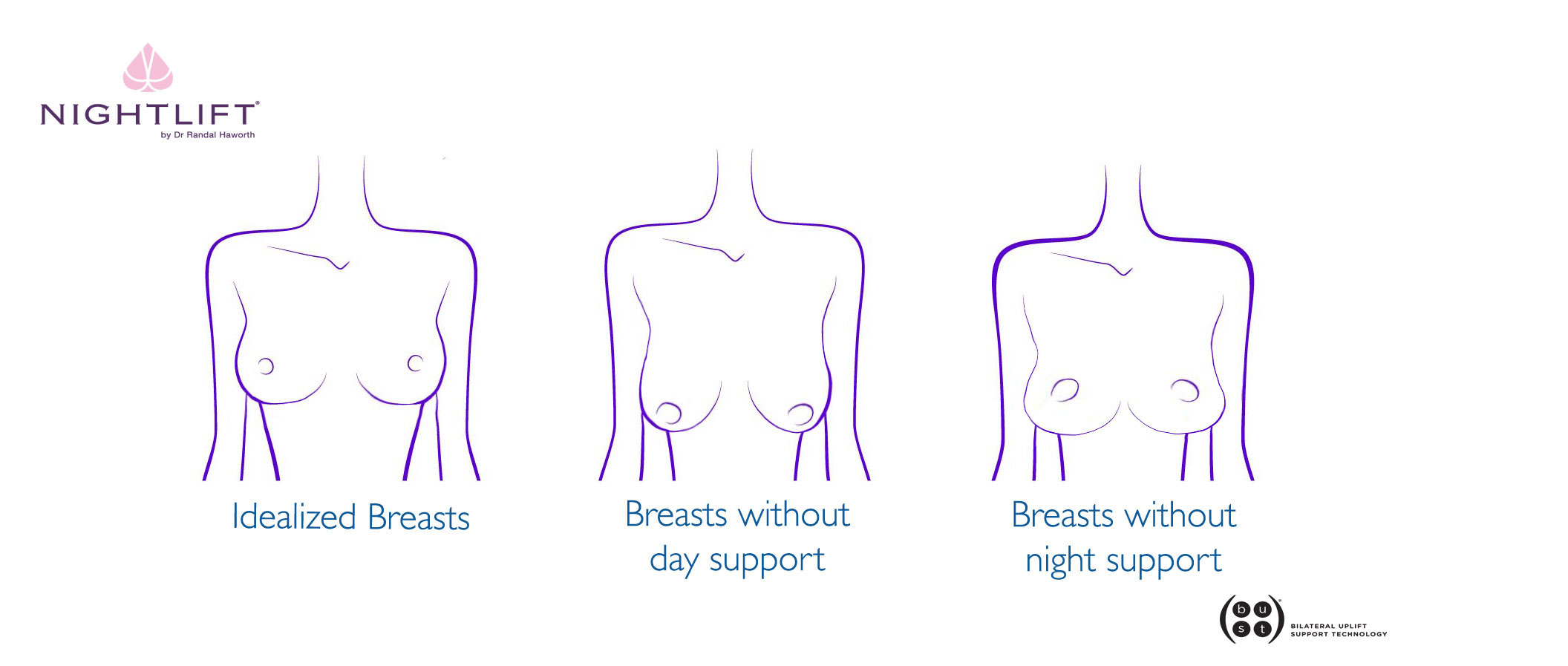 BREASTS WITHOUT BRAS
Breasts are affected by gravity just in the same way that Sir Isaac Newton noted that an apple is. If the apple is not prevented from dropping to the ground, it will do so and often get damaged in the process. During the day, breasts get pulled towards the earth in the same way and if no support is provided to counteract this force, breasts will eventually elongate and narrow complemented often times with downward facing nipples.
After examining thousands of breasts throughout  my 20 years of private practice, I have come to realize that those who sleep in a brassiere generally have perky breasts than those who don't. Specifically, those who wear a bra during the day and not one at night tend to have breasts which are wider, yet flatter and concave on top with their nipples still point upwards.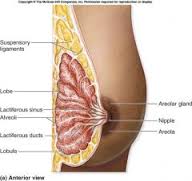 Oblique cross-section of breast showing inner anatomy including Cooper's suspensory ligament's.
Apart from being blessed with good genetics to imbue your breasts with strong Cooper's ligaments, collagen and skin there is nothing one can do to to protect your breasts from drooping except good old fashion commonsense prevention – and that comes in the form of a bra.
There is no muscle in the breasts therefore neither exercise nor yoga positions will help. There's even poorly conceived research stating that wearing a bra creates more drooping of the breast because "they limit the growth of supporting breast tissue, leaving the breast to wither away and degrade more quickly"! In other words, they imply that the stress of gravity is good for the breast, training it like a muscle. If that were the case, patients could simply gain and lose excessive weight repeatedly in order to" train the skin" so that stretch marks can be avoided. OK…but I then wonder why pregnancy results in abdominal stretch marks…hmmmm?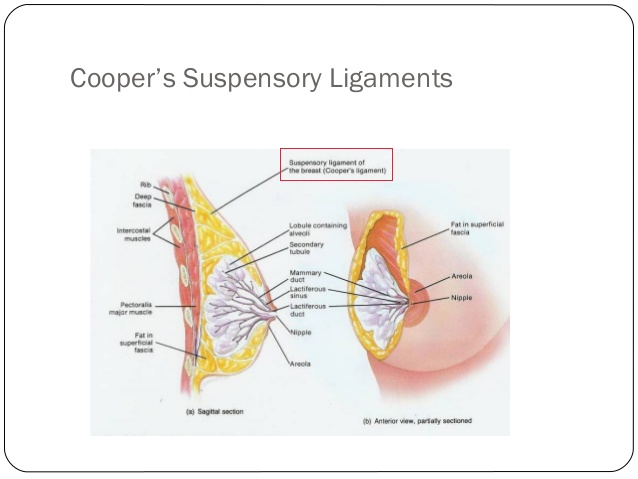 My job as a plastic surgeon is to not just simply do the surgery and wish my patients all the best as they fade into the sunset. I feel it is my responsibility to also provide an "instruction manual" so to speak on how to manage their aesthetic wellness outside of my clinic and operating room.
For example, after facial surgery I recommend specialized skin care regimens and after body sculpting, certain diet and exercise. However, after breast surgery, few if any plastic surgeons recommend long term breast care except for incision/scar management, implant massage and mammograms. You only have one set of breasts and whether or not you choose to undergo plastic surgery, it is equally important to invest time and not just money in protecting their aesthetic wellness as appropriately early as you can. As soon as a young woman's breasts are large enough to fall off the side of their chest when they are lying down is the ideal time to prevent them from doing so!
In the same way that gravity exerts an affect on a woman's breasts when she stands, it also profoundly affects them when she lies down.
However, wearing a regular, daytime bra to bed simply did not provide the specialized support that was needed when on one's back and side. When calling the support specialized, I am referring specifically to secure lateral outside support to keep the breasts from falling off to the side in addition to inner or middle support to prevent the upper breast from falling onto the lower during side sleeping.
There were no bras on the market that addressed these important issues. It is for that reason that I developed NightLift ®. It had to fill three criteria:
1. First and foremost, it had to be comfortable
, like a second skin if you will. Despite providing unparalleled support, no underwires exist within this bra.
2. It had to work.
48 prototypes were developed over several years to ensure ultimate support without wire or compression. We call  this technology
B.U.S.T. ®
(bilateral uplift support technology).
3. It has to be stylish
and sexy so a woman not only feels fabulous but also looks great, whether she's alone or with her partner. Whether a woman has undergone breast surgery or not, I recommend night list to all of my patients if she is concerned with aesthetic wellness of her breasts. After breast surgery (including breast augmentation, mastopexy or breast reduction) I fit my patients in NL a week after surgery when most swelling has dissipated. Since NL provides incredibly comfortable support without hurtful underwire, patients fall in love with this and it soon becomes a staple within their lingerie collection. Randal Haworth MD To learn more, go to
Nightlift.com