Video Reviews for Dr. Haworth
"Hi. I had breast issues taken care of last year by Dr. Haworth, including mid-facelift and brow lift. I think I look younger now than on this picture taken 15 years ago!"
Anna
"Just had my breasts redone by Dr. Randal Haworth. Unbelievable! We thought it was going to be 2 hours - it was a 6 hour job. It looks beautiful. I'm so happy! Thank you, Doctor, thank you!"
Christina P.
Reviews for Dr. Haworth
"Dr. Haworth's transformation of my nose was nothing less than miraculous. I was devastated by the wreckage resulting from my initial rhinoplasty performed by another surgeon. The tip was upturned and off center, the nostrils were retracted and asymmetric, there were several bumps and dips, etc. I consulted several alleged rhinoplasty revision experts who consistently claimed that most of the damage was irreparable. I felt hopeless and, quite depressed as I was led to believe that any attempt to correct my tragically disfigured nose would be futile. Then I met Dr. Haworth who gave me hope.

Dr. Haworth took his time carefully identifying, analyzing and developing solutions for each flaw. He's extremely meticulous and passionate about his work. Also, it is quite clear that he is a naturally gifted artist as evidenced by his art gallery. I too am artistically inclined and lave won several awards and scholarships for my artwork. Therefore, I am excessively particular as my perception of symmetry, angles, curves and details in general is highly acute. Nevertheless, I was ecstatic about the results of Dr. Haworth's revision rhinoplasty. He transformed my nose from my worst to my best facial feature. His sculpting abilities are second only to God. I am thankful every time I look in the mirror. He has replaced my depression with confidence. "
Dan Wishard
"He is very nice, professional, kind and really takes time to answer all questions and concerns. There are doctors who have artistic ability, rather than merely a scientific skillset and I sensed in my consultation that Dr. Haworth is the former. I really liked consulting with him, and he was the second doctor I consulted with on this procedure (the first was Dr. Jason Diamond, in Beverly Hills who told me he was trained in lip lift procedures by Dr. Haworth so I decided to go straight to the source instead.). He spent atleast an hour with me in my consult, plus another 30 mins or so in my pre op discussing what we would be doing, and another 30 mins or so right before surgery, marking me and measuring. He called me the night of my surgery to check on me as well, and had me email pics to show how I was healing since I was not able to go into his office the morning after surgery which he preferred, so he could see my other procedure's healing (I also had a lower blepharoplasty with fat transfer as I am 46 years old). He emailed me back immediately and let me know I was healing fine. I am scheduled to have my stitches removed on Monday. My surgery was on the 9th, stitches which were not the dissolvable kind, are being removed 6 days after surgery. As you can see from my photos, he really did a miraculous job. No visible scar at all in just 10 days post op."
Read the full review and see her lip lift post operation updates here...
skingirl10 | RealSelf.com
"Randal, it was so great to see you in your office yesterday. I want you to know that I am ever so glad I made the decision to go with you. Not only do I love your expertise, but more than that I loved how you paid attention to the little details & you heard what I needed & wanted.

But what tops that is your pure honesty with no bullshit.

Thanks so much Randal
Bisous bisous"
Tiffany G.
"Dear Dr. Haworth,

I am sooooo pleased with the work you have done for me. I was extremely nervous, and your attention to detail, thorough knowledge and calm demeanor helped me immensely to get over my initial fears (about even having surgery and altering my face). I know that you are known for your incredible makeovers and celebrity clientele, but I wanted something subtler, with very natural looking adjustments, and you far exceeded my expectations! I'm thrilled with the results and everyone asks my secret! You are the GREATEST!!"
L.M.
"Everyone was sweet and took great care of me. I love getting to have a laugh before my face is stuck with needles. :)"
Alexandra V.
"Dr Haworth is a very detail oriented person. Not only is he a respectable Dr, he is also very caring and patient. I have gone through so many consultations before finding him and I thank God I finally found the right doctor."
"Dr Haworth is the best doctor by far. His professionalism and the fact he really cares about what you want is what makes him standout. I have loved everything from Botox to the fillers of Juvederm he is done for me over the past few years. He is always done a perfect job. I highly recommend him to anyone wanting to perfect there looks. :) he is the best!"
"Dr. Haworth and his staff were amazing. They explained every step of the process and the results are natural. Dr Haworth understood exactly what I wanted and executed it perfectly. I will definitely be back."
"Very pleased with his listening to my concern, and always knows what is the best for your specific request, I always feel very confident and secure,knowing he is making the best decision for me and my look."
A. Wilkinson
Cards to Dr. Haworth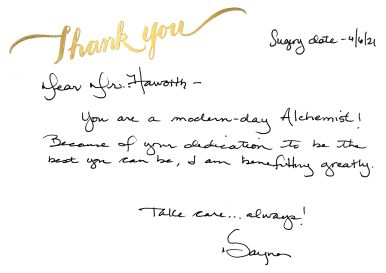 "Dear Dr. Haworth,

You are a modern-day Alchemist!

Because of your dedication to the best you can be, I am benefitting greatly"

Take care...always!
Dayna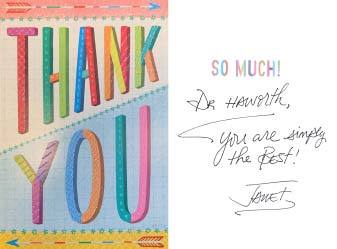 "Thank you so much!

Dr. Haworth,
You are simply the BEST!"
Janet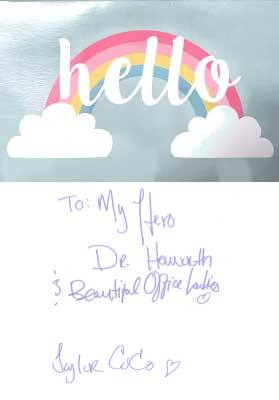 "To: My hero
Dr. Haworth
& beautiful office ladies"
Taylor Coco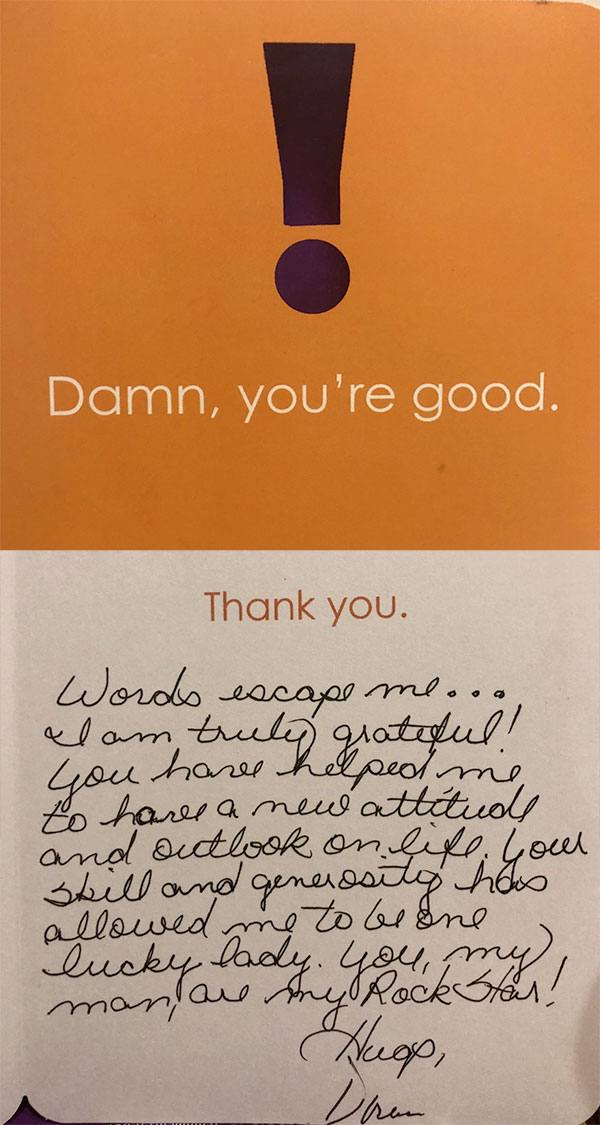 "Thank You,

Words escape me... I am truly grateful! You have helped me to have a new attitude and outlook on life. Your skill and generosity has allowed me to be one lucky lady. You, my man, are my rock star!

Hugs,"
Doreen
"Dr. Haworth,

You are also my hero, you changed my life.

Thanks,"
Jennifer | Contestant from "The Swan"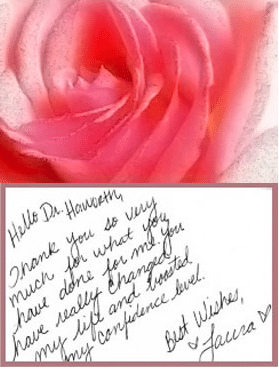 "Hello Dr. Haworth,

Thank you so very much for what you have done for me. You have really changed my life and boosted my confidence level.

Best Wishes"
Laura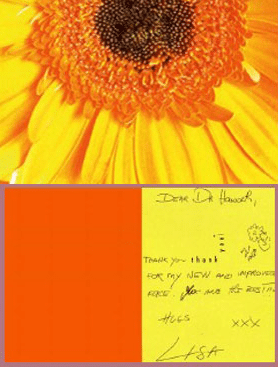 "Dear Dr. Haworth,

Thank you Thank you! For my new and improved face. You are the BEST!!!!

HUGS XXX,"
Lisa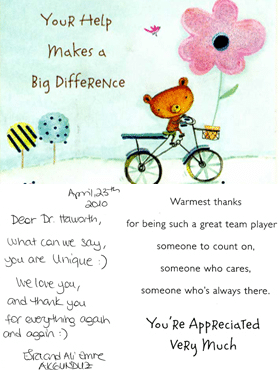 "Dear Dr. Haworth,

What can we say, you are unique. We love you, and thank you for everything again and again :-)"
Esra and Ali Emre Akgunduz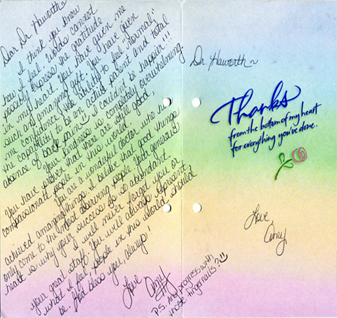 "Dear Dr. Haworth,

I think you know how I feel. Words cannot possibly express the gratitude in my heart. You have given me such an amazing gift. You have given me confidence, the ability to feel "normal", the capability to be an active parent and total absence of back pain :-). I couldn't be happier!

Your kindness is completely overwhelming. You have proven that there is still good, compassionate people in this world.

You are a wonderful doctor who has achieved amazing things. I believe that good things only come to the most deserving people. Your generous heart is why your success is so abundant.

I will never forget you or your great staff. You will always represent what I feel people in this world should be. God bless you always!

Love,"
Amy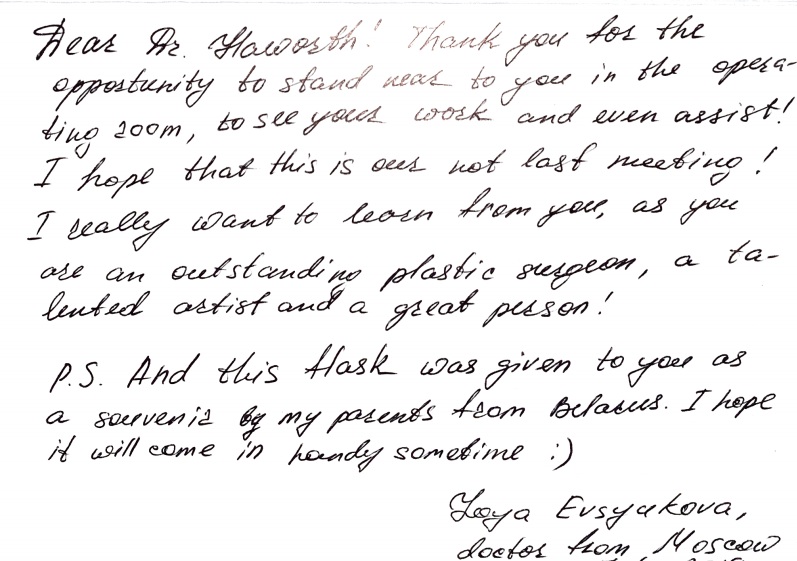 "Dear Mr. Haworth!,

Thank you for the opportunity to stand near to you in the operating room, to see your work and even assist! I hope that this is our not last meeting! I really want to learn from you, as you are an outstanding plastic surgeon, a talented artist and a great person.

P.S. And this Hask was given to you as a souvenir by my parents from Belarus. I hope it will come in handy sometime :) ….. Evsyakova Doctor from Moscow


Evsyakova
*Plastic & cosmetic surgery results may vary significantly between patients