Randal Haworth occupies an odd position in this sinned-against-and-sinning society. As a physician, he is expert in techniques that effectively turn idolaters into the idols they worship, or at least bring them closer. Is this a capitulation to the economy of consumption, or a means to its transcendence? It is, in any case, an art form - which is why Haworth practices it. Since childhood he has dedicated himself to the appreciation and production of art; discouraged from pursuing art as a career, Haworth found an alternate vocation that still afforded him a hands-on approach to forming images and shaping things aesthetically. As the canard about plastic surgeons would have it, Dr. Haworth is a Pygmalion for our age.
But, in returning to the making of art itself, Haworth has chosen to make pictures rather than objects. This might seem inimical to his professional practice, which of course deals with solids. but we're wiser to think of his picture-making as complementary. Rather than fashion presences in actual space, Haworth renders his presences in imaginary spaces, in places he determines no less than he does his figures, the better to balance the relationship between figure and ground - and thus control the message.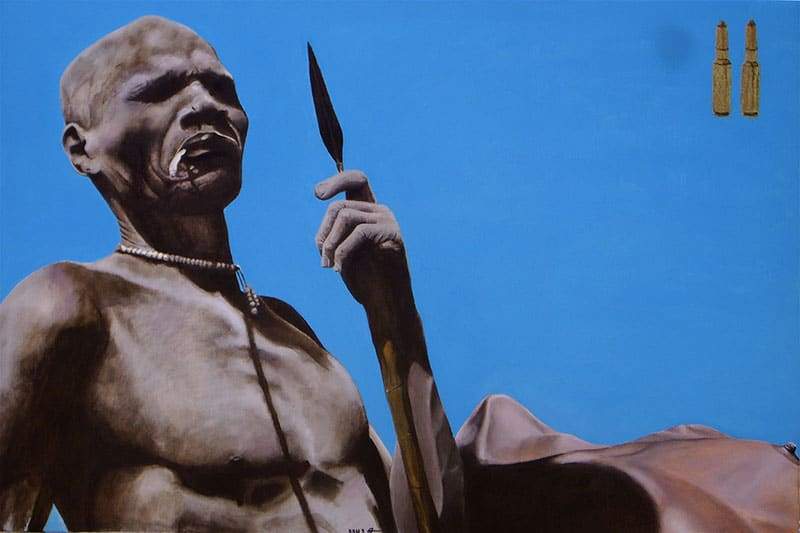 Haworth's message in effect upends the consumerist message. It encourages those who view his paintings to regard the visual stimuli around them with a critical eye. Haworth avers that not only beauty, but wealth, power, and status are only skin deep. He also suggests that global politics - which hit so close to home of late - are determined by, and in turn determine, the same psychosocial forces on which consumer capitalism capitalizes. And in the middle of all of this, Haworth quotes time and again from paintings of the past, from works commonly regarded as milestones along the path of Western (and occasionally non-Western) art.
With these quotations Haworth extends to us a two-pronged message. On the one hand (or prong), he serves to provide us cold comfort in the realization that the base motivations driving, diverting, and tormenting us affected our forebears no differently. The Renaissance princess was no less a prisoner of human frailty than is anyone of us. On the other hand, Haworth proffers art itself as a means of looking through, and perhaps getting beyond, the mereness of the human condition. By citing works that stare back at us in museums and art books, that we know at least in passing, or at the very least by type, he points at what he feels is a true kind of persuasive ability, and a true kind of immortality: the beauty of the distinctive image, of the image whose distinction resides in its visual resonance and durability.