Iggy Azalea has been quashing rumors that her looks are courtesy of various surgical procedures just like she denied blackfishing recently
Iggy Azalea was in the news recently after fans and critics leveled "blackfishing" allegations against the rapper. In layman terms, blackfishing is similar to catfishing and it refers to someone who resorts to different ways – including makeup – to appear Black or racially ambiguous. The term was coined by hip-hop journalist Wanna Thompson in 2018. 
The Australian-born rapper said she shot the video of 'I Am The Stripclub' in a dimly lit room with red lights. Rubbishing all blackfishing allegations, Azalea said she has been using the same makeup for years and has been the same color as she has always been. It's the same makeup from every other part of the video just with a Smokey eye and different wig. Just ignore them, who cares? Let 'em talk," she said while replying to one of her fans on Twitter.
This is not the first time Azalea's looks have sparked controversy. She has been battling plastic surgery rumors for many years. Even though she has admitted to having gotten rhinoplasty and breast augmentation, Azalea in the past claimed her famous butt is courtesy of a clean diet and exercise while continuing to never address rumors about her silicone jaw amongst other things. Here's a rundown of all the times Azalea defended herself over her transformed looks.
READ MORE
Rapper Bhad Bhabie claps back at 'blackfishing' accusations, says people should worry about coronavirus instead
What is Jesy Nelson's ethnicity? Ex-Little Mix star accused of 'blackfishing', fans claim Ariana Grande does it
'It is my real butt'
In 2017, Azalea in an interview with Stav, Abby, and Matt on an Australian radio program said, "No, I don't have bum implants! They're not my real boobs, but it is my real butt." After having a baby, Iggy debuted her washboard abs in a couple of months and once again denied rumors that she went under the knife to look perfect. Azalea is very connected to her fans on Twitter and communicates with them throughout the day. It was during one such interaction where she said she was in great shape when pregnant and that coupled with a healthy diet was responsible for her godly post-pregnancy body. 
However, Azalea has never shied away from talking about her boobs which she got done in 2015, candidly at that. "Four months ago, I got bigger boobs! I'd thought about it my entire life," she told Vogue the same year. Talking to E! about why she chose to address it in the media, she said, "I love them so much I had to talk about them," she revealed. "Everybody did say, 'I don't think you need to say it because no one will ever know because they're so small.' I said, 'I know but I'm just going to say it [because] I'm a blabbermouth!"' Azalea added before saying, "I'd feel better not to have some secret. It's much freer to say it and then you don't have to worry someone will dig it up,' she added."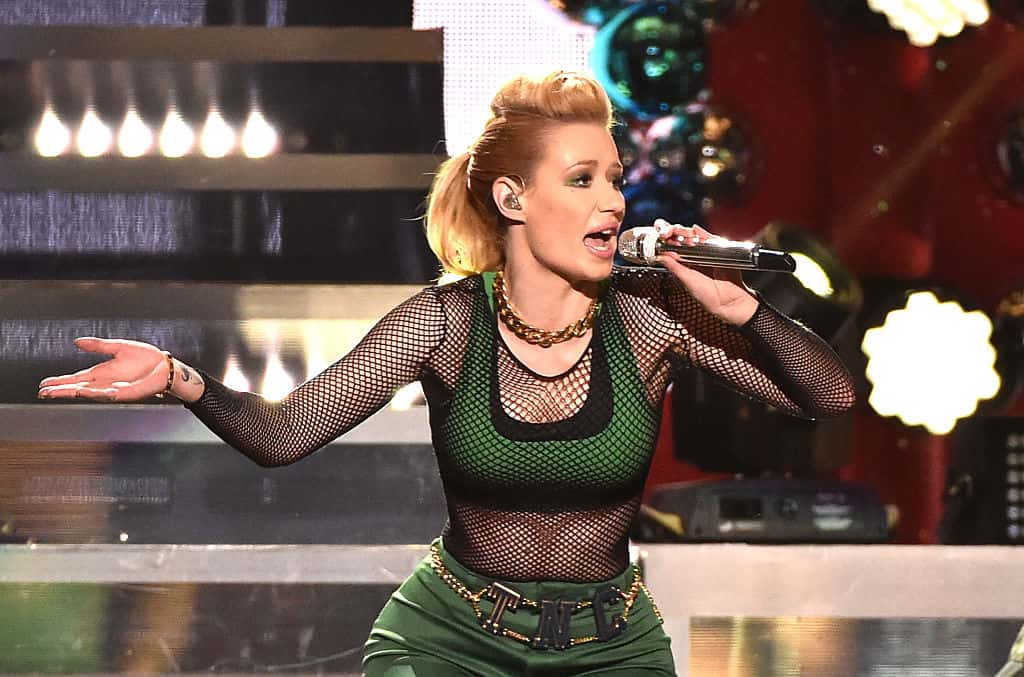 Dr Randal Haworth, a Beverly Hills plastic surgeon, spoke to a publication in 2019 and noted that the musician might have made additional changes to her face more than she lets on. Azalea had been open about getting a rhinoplasty and breast augmentation but Haworth argued that she might have invested in a couple of "subtle" and "beautiful" procedures to fine-tune her already flawless visage. "Iggy is what I would describe as an excellent 'canvas' on which a plastic surgeon can reveal his work," Haworth observed. "When done right, results can be sublime and indiscernible to a layman's eye," he said.
Haworth himself didn't treat Azalea but he believed she underwent "a chin augmentation as well as mandibular angle enhancement to give her a more refined, modelesque jawline." He further added, "This can be done either with solid silicone implants or off-the-shelf injectable fillers, but either way, her results are spectacularly non-obvious."
Azalea hasn't commented on Haworth's observations about her looks.
If you have a news scoop or an interesting story for us, please reach out at (323) 421-7514