Recently, I was honored to be featured on the cover of the highly popular regarded trade magazine of the noninvasive aesthetic industry, MedEsthetics.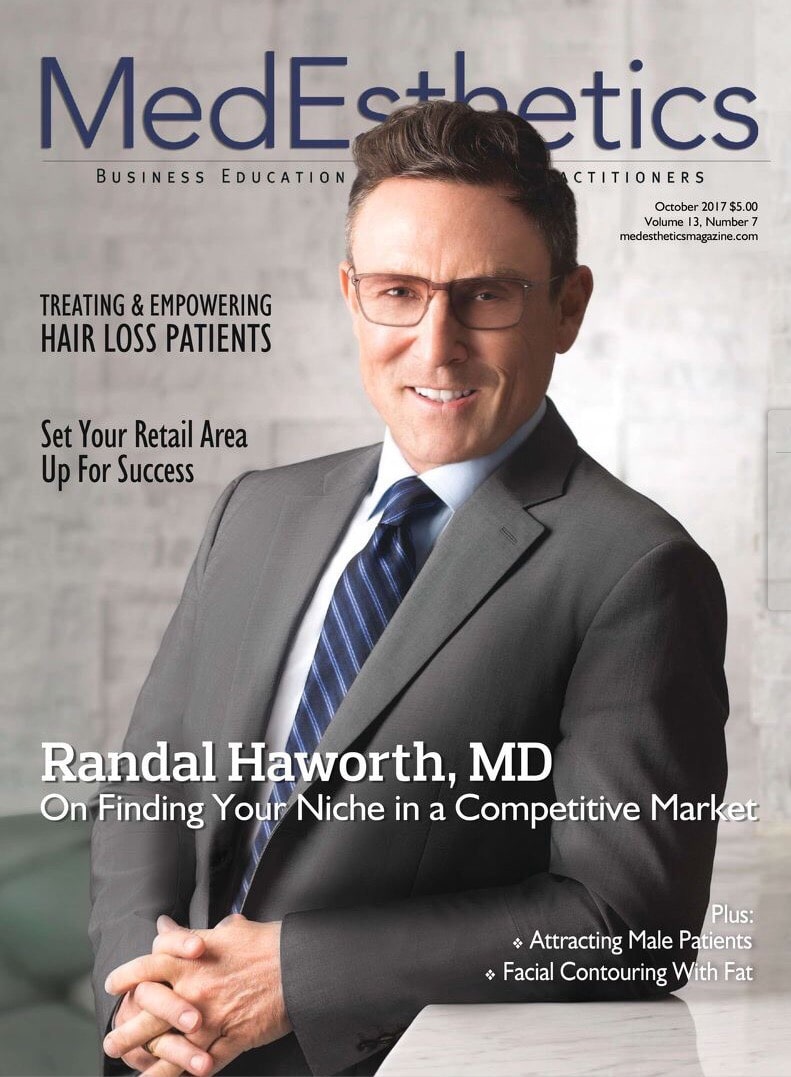 Here is the article. We at Self-Centered Aesthetics ™are super excited to be off to such a great, auspicious start. We are aiming to deliver the best, state of the art noninvasive treatment to all patients, under one roof with my philosophy of beauty.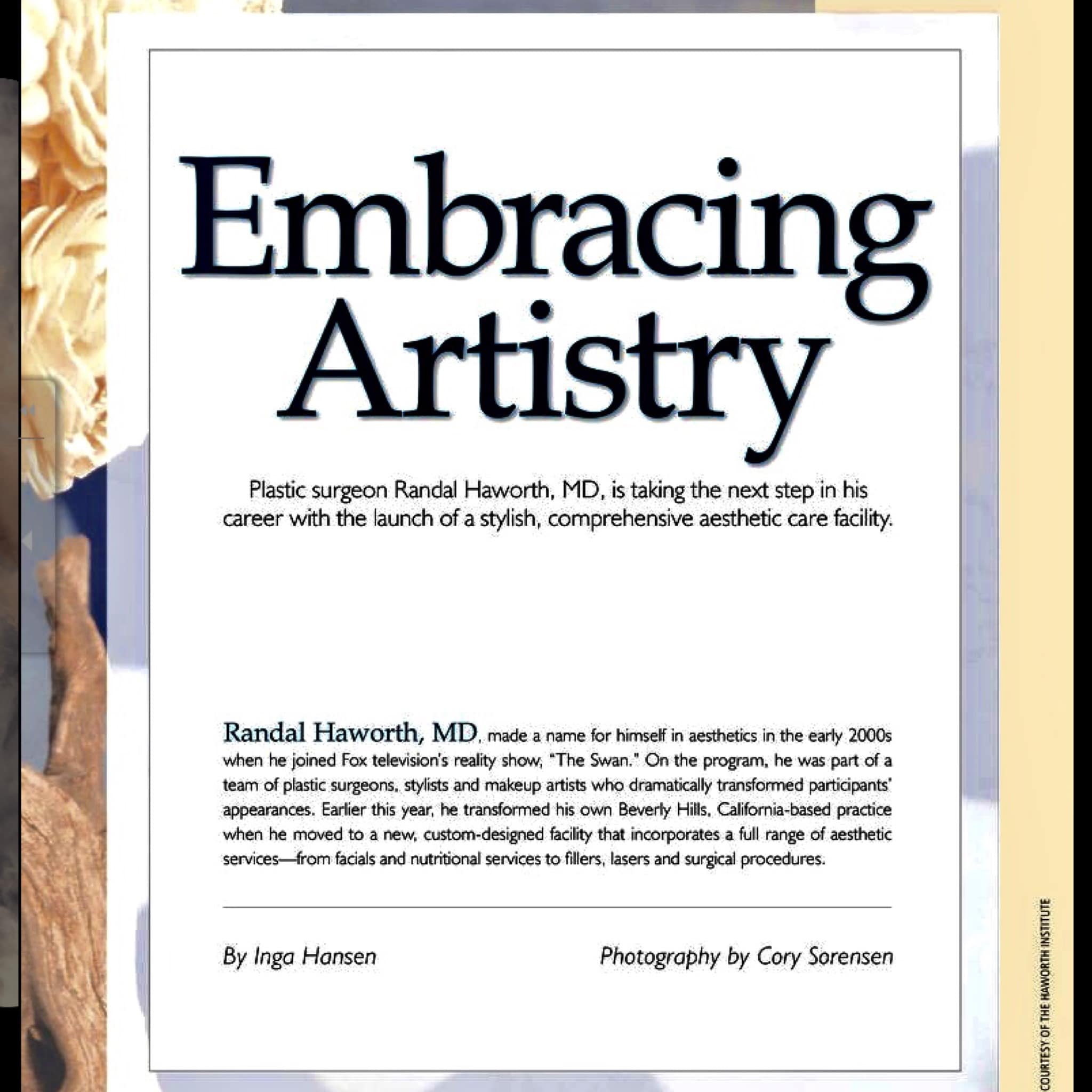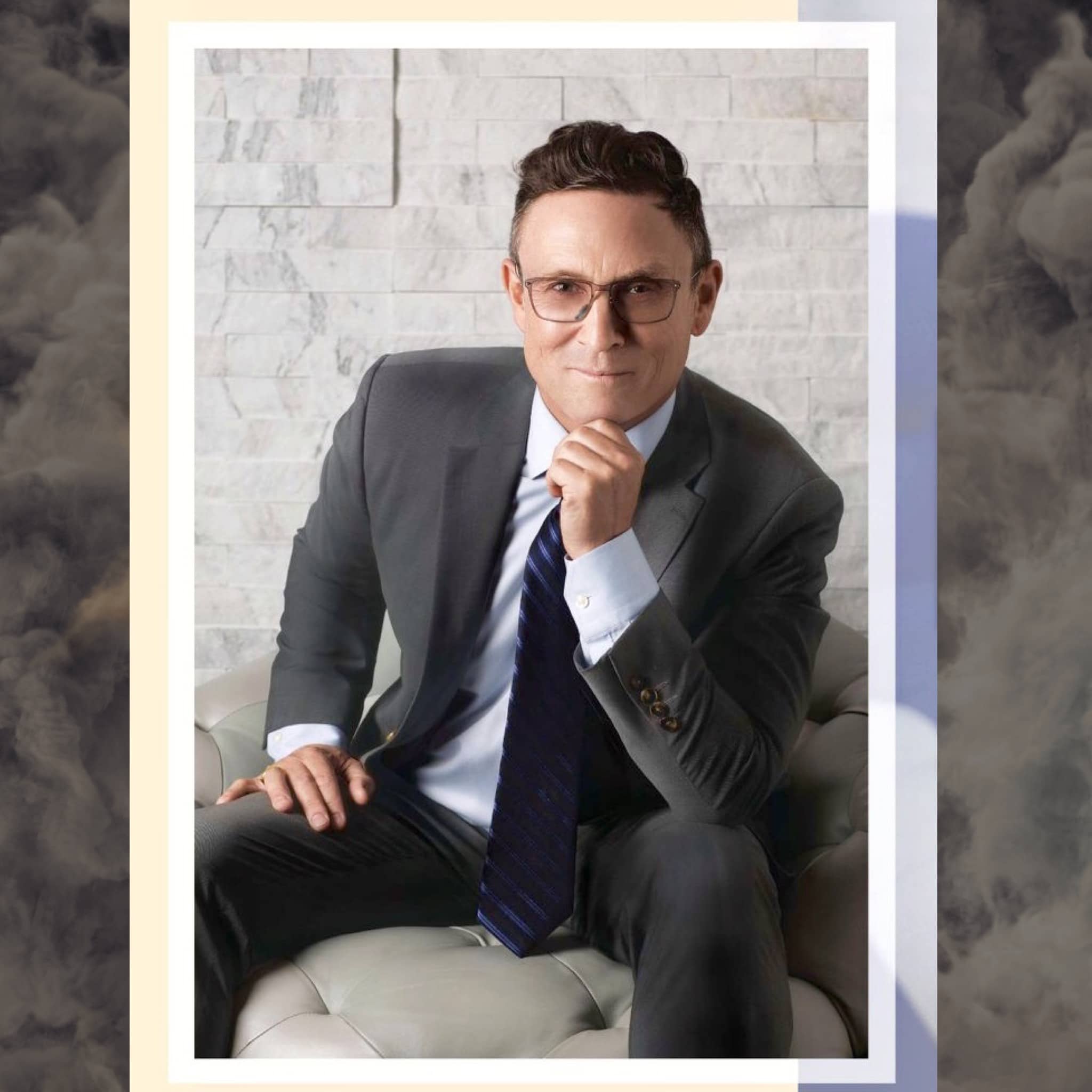 Embracing Artistry
By Inga Hansen Photography by Cory Sorensen Plastic surgeon Randal Haworth, MD, is taking the next step in his career with the launch of a stylish, comprehensive aesthetic care facility. Randal Haworth, MD, made a name for himself in aesthetics in the early 2000s when he joined Fox television's reality show, "The Swan." On the program, he was part of a team of plastic surgeons, stylists and makeup artists who dramatically transformed participants' appearances, Earlier this year, he transformed his own Beverly Hills, California-based practice when he moved to a new, custom-designed facility that incorporates a full range of aesthetic services—from facials and nutritional services to fillers, lasers and surgical procedures. Dr. Haworth's design philosophy for the new Haworth Institute was nature meets high-tech.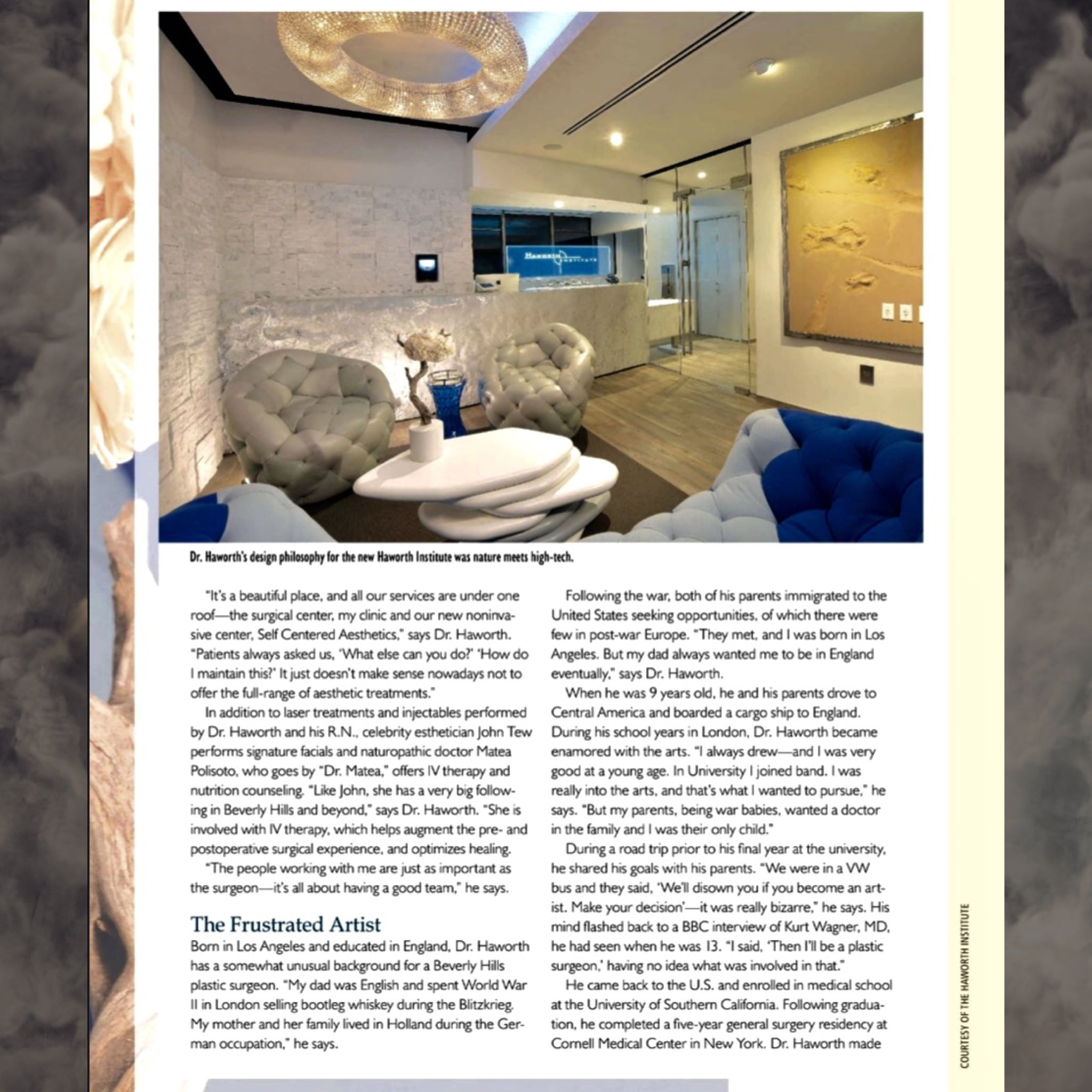 "It's a beautiful place, and all our services are under one roof—the surgical center, my clinic and our new noninvasive center, Self Centered Aesthetics," says Dr. Haworth. "Patients always asked us, 'What else can you do?' 'How do I maintain this?' It just doesn't make sense nowadays not to offer the full-range of aesthetic treatments." In addition to laser treatments and injectables performed by Dr. Haworth and his R.N., celebrity esthetician John Tew performs signature facials and naturopathic doctor Matea Polisoto, who goes by "Dr. Matea," offers IV therapy and nutrition counseling. "Like John, she has a very big following in Beverly Hills and beyond," says Dr. Haworth. "She is involved with IV therapy, which helps augment the pre- and postoperative surgical experience, and optimizes healing. "The people working with me are just as important as the surgeon—it's all about having a team," he says.
The Frustrated Artist
Born in Los Angeles and educated in England, Dr. Haworth has a somewhat unusual background for a Beverly Hills plastic surgeon. "My dad was English and spent World War Il in London selling bootleg whiskey during the Blitzkrieg. My mother and her family lived in Holland during the German occupation," he says. Following the war, both of his parents immigrated to the United States seeking opportunities, of which there were few in post-war Europe. "They met, and I was born in Los Angeles. But my dad always wanted me to be in England eventually," says Dr. Haworth. When he was 9 years old, he and his parents drove to Central America and boarded a cargo ship to England. During his school years in London, Dr. Haworth became enamored with the arts. "l always drew—and I was very good at a young age. In University I joined band. I was really into the arts, and that's what I wanted to pursue," he says. "But my parents, being war babies, wanted a doctor in the family and I was their only child." During a road trip prior to his final year at the university, he shared his goals with his parents. "We were in a VW bus and they said, 'We'll disown you if you become an artist. Make your decision'—it was really bizarre," he says. His mind flashed back to a BBC interview of Kurt Wagner, MD, he had seen when he was 13. "l said, 'Then I'll be a plastic surgeon,' having no idea what was involved in that." He came back to the U.S. and enrolled in medical school at the University of Southern California. Following graduation, he completed a five-year general surgery residency at Cornell Medical Center in New York. Dr. Haworth made his way back to the West coast for his plastic surgery residency at the University of California, Los Angeles. "After my residency, I had no money so I was anxious to go into practice. I thought, well then I have to goto Beverly Hills because that's where successful plastic surgeons go," he says. Another surgeon offered to rent him a space in his clinic's kitchen, which was housed in one of the most desirable medical buildings in Beverly Hills. "He had a little pocket door in front of the kitchen so I stayed in there," says Dr. Haworth. "During my clinic days, I would take his diplomas off the walls in the two little exam rooms and put mine up, and that's how it started. "l look back fondly on those days now, but it was horrible at the time. If I had two surgeries in a month, it was a great month," he says.
Finding His Niche
During his UCLA residency, Dr. Haworth won a plastic surgery research prize for his lip surgeries, which provided a unique niche with which to build his practice, More than 20 years later, he has patients from all over the world who travel to the Haworth Institute for their lip surgeries. "You can be the best doctor in the world, but if you don't have marketing, no one will know about you," he says. "So I leveraged that award and started getting known for lips, even though my favorite surgeries are noses, mid- facelifts and what I call hyperaesthetic surgeries where we change everything. The lips are what I was known for, and now I get jazzed by that because there's really no competi- tion in the world for these surgeries." He offers upper, lower and corner lip lifting procedures as well fat transfer and F.A.T.M.A. (fat transfer & mucosal advancement). "l do many types of lip lifts because it is shape before volume; there are many things that fillers alone cannot do," he says.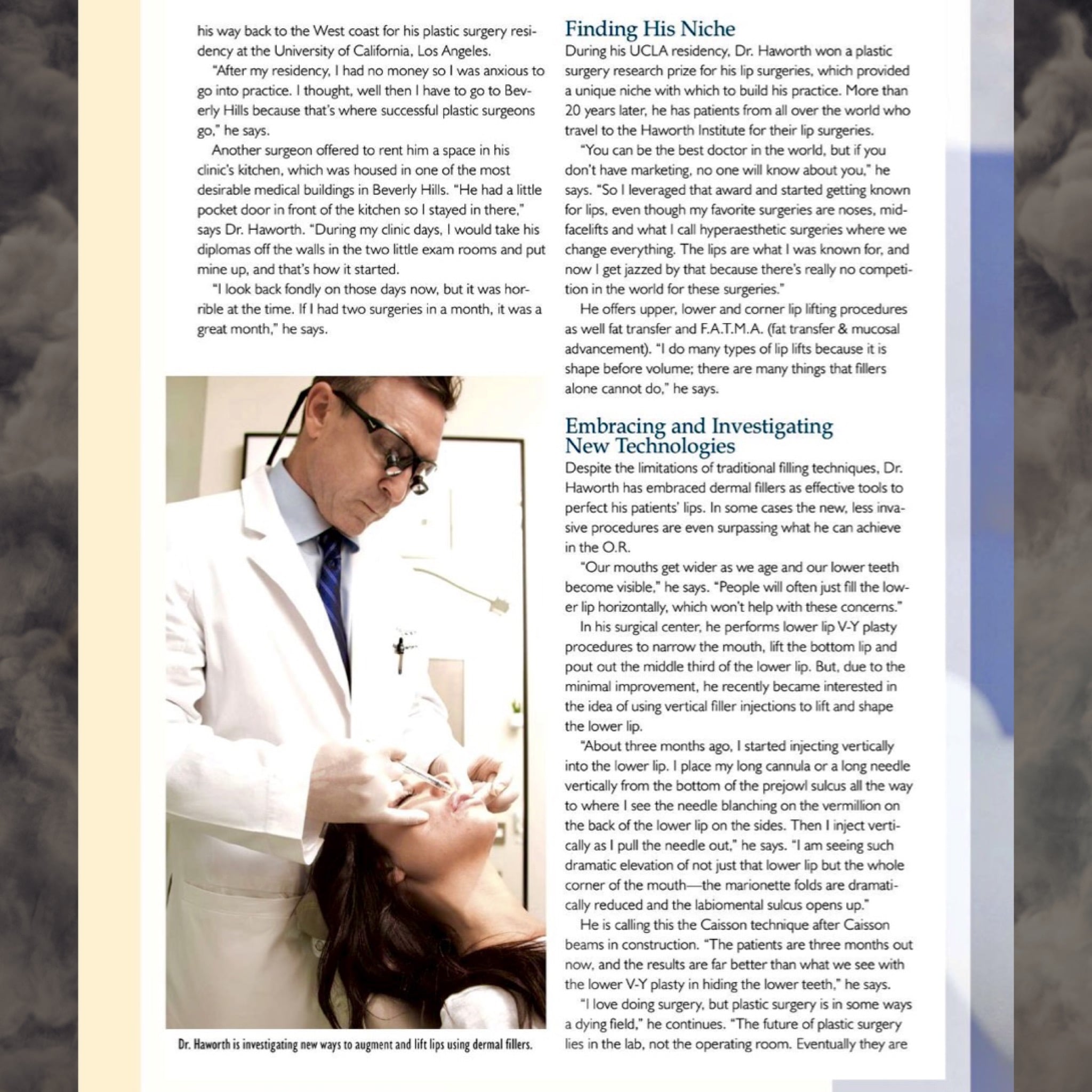 Embracing and Investigating New Technologies
Despite the limitations of traditional filling techniques, Dr. Haworth has embraced dermal fillers as effective tools to perfect his patients' lips. In some cases the new, less invasive procedures are even surpassing what he can achieve in the O.R."Our mouths get wider as we age and our lower teeth become visible," he says. "People will often just fill the lower lip horizontally, which won't help with these concerns."In his surgical center, he performs lower lip V-Y plasty procedures to narrow the mouth, lift the bottom lip and pout out the middle third of the lower lip. But, due to the minimal improvement, he recently became interested in the idea of using vertical filler injections to lift and shape the lower lip."About three months ago, I started injecting vertically into the lower lip. I place my long cannula or a long needle vertically from the bottom of the prejowl sulcus all the way to where I see the needle blanching on the vermillion on the back of the lower lip on the sides. Then I inject vertically as I pull the needle out," he says. "l am seeing such dramatic elevation of not just the lower lip but the whole corner of the mouth—the marionette folds are dramatically reduced and the labiomental sulcus opens up."He is calling this the
Caisson
technique after Caisson beams in construction. "The patients are three months out now, and the results are far better than what we see with the lower V-Y plasty in hiding the lower teeth," he says.Dr. Haworth is investigating new ways to augment and lift lips using dermal fillers."l love doing surgery, but plastic surgery is in some ways a dying field," he continues. "The future of plastic surgery lies in the lab, not the operating room. Eventually they are going to know how to stop senescence. In the meantime, the future of aesthetics is laying more and more in lasers and newer, better fillers, and I want to stay on the forefront of that."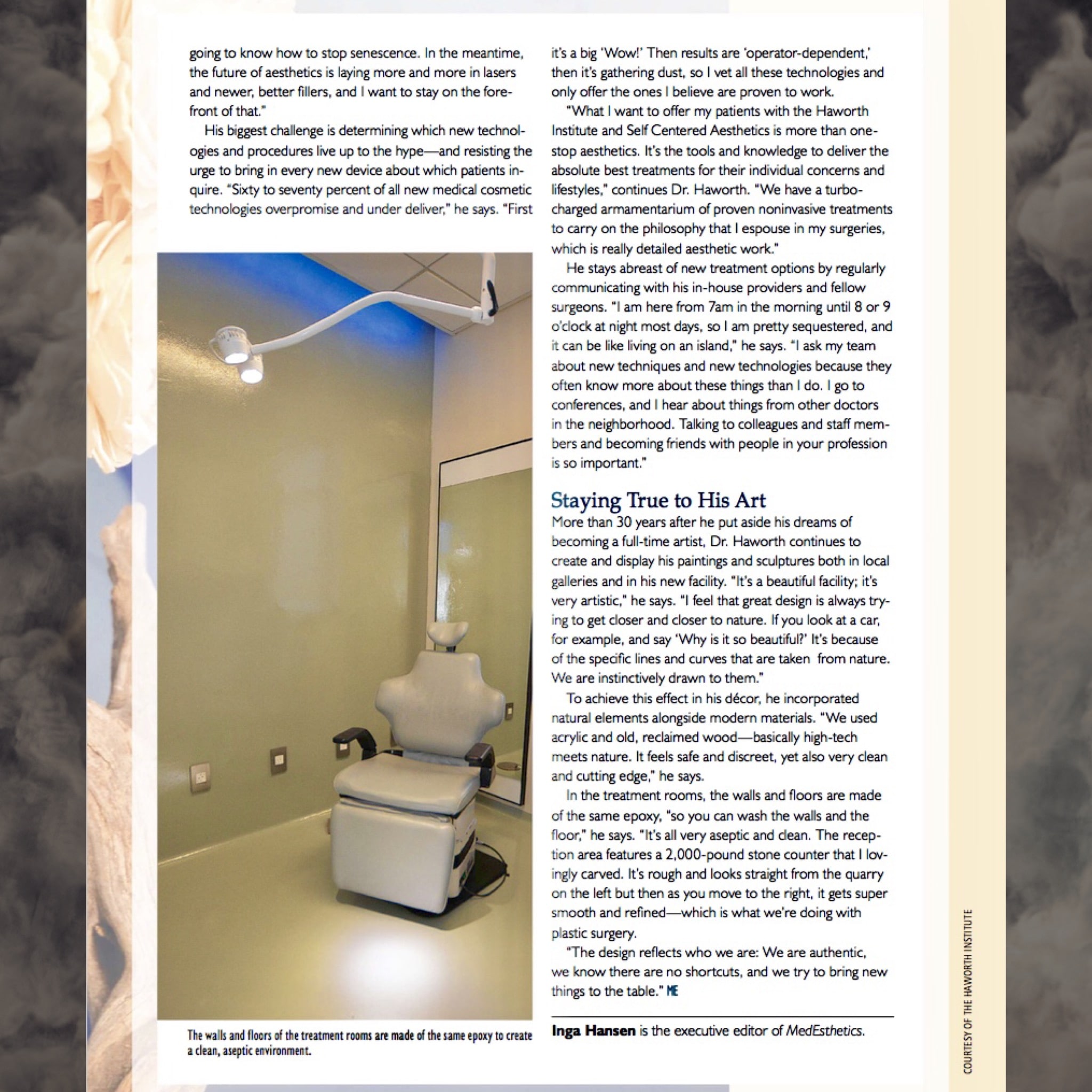 His biggest challenge is determining which new technologies and procedures live up to the hype—and resisting the urge to bring in every new device about which patients inquire. "Sixty to seventy percent of all new medical cosmetic technologies overpromise and under deliver," he says. "First, it's a big 'Wow!' Then results are 'operator-dependent,' then it's gathering dust, so I vet all these technologies and only offer the ones I believe are proven to work."What I want to offer my patients with the Haworth Institute and Self Centered Aesthetics is more than one-stop aesthetics, It's the tools and knowledge to deliver the absolute best treatments for their individual concerns and lifestyles," continues Dr. Haworth. "We have a turbocharged armamentarium of proven noninvasive treatments to carry on the philosophy that I espouse in my surgeries, which is really detailed aesthetic work."