The myths and realities of the Lifestyle Lift
As with any service industry, there are convenience stop businesses and destination businesses. You see that with restaurants (think of McDonald's or Chili's versus French Laundry, one of the best restaurants in the United States) and you see this concept applicable to the plastic surgery business. I stress the term business  and not medical field for a reason in this essay. I can safely say that most people that pursue higher education in any country do so to seek a better life, better pay and have more opportunities come their way. Of course, most scrupulous doctors experience immense satisfaction from treating their patients as well and, cynically speaking, are not simply in it for the financial award.
Like all professionals, doctors do seek out (and deserve) a certain financial reward for all the years of dedication, study, stress and life sacrifice they undergo in order to carry out their profession and deliver the best care they can to their patients. However, in this day and age of increasing competition and commoditization in all aspects of health care including plastic surgery, surgeons are forced to perform more surgeries at lower costs and possibly increased medical risk to patients. This alarming trend can especially be seen in plastic surgery where the end results of a hastily performed surgery are not hidden within a body cavity but are plainly visible on the face. Some of my colleagues brag about the speed at which they perform a surgery citing the many corners that they "cut" during an operation as unnecessary steps (no pun intended). I suppose they feel more akin to a Usain Bolt than that of a gifted watchmaker.
This brings me to the title of this blog post-The Lifestyle Lift. To the unsuspecting public this facelift is heavily marketed as a viable, simpler, safer, faster quality facelift at a fraction of the price. In fact, this facelift is an overly simplified distillation of pre-existing ideas wrapped in a new packaging as something brand-new and revolutionary. The one aspect that is revolutionary about this facelift is that it is one of the first surgeries that has been rebranded and marketed directly to the "consumer". The company then refers the "consumer' to one of their participating surgeons in the network to become a patient. Unfortunately, as a Beverly Hills plastic surgeon board-certified by the American Board of plastic surgery, I have seen many results of this "Lifestyle Lift" that reek "cookie-cutter surgery" in which performance is measured in terms of speed and not quality.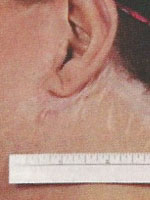 Read The Article Here
I have seen many unacceptable, hideously widened scars most probably stemming from the fact that the surgeon did not perform a wide enough dissection to allow a tension-free closure (which is tantamount to a good scar). I have also consulted with many patients who were dismayed by how the "Lifestyle Lift" failed to meet their expected goals with incomplete treatment of their jowls, neck and midface.
While it is true that all surgeons have their small subset of unhappy patients either because of unrealistic expectations, sub-optimal results or unexpected complications, the large percentage of unhappy patients complaining of their "Lifestyle Lift" is too hard to ignore. For a good article on the subject that appeared in Plastic Surgery Practice.