Dr. Haworth of Beverly Hills gained much of his advanced experience as both a primary and revision rhinoplasty specialist back in the Middle East. He performed literally hundreds of nose jobs there on patients from all walks of life. One of the most common complaints there are boxy and bulbous nasal tips.
What constitutes a bulbous nasal tip?
The bulbous nasal tip is most likely caused by thick alar cartilages (see accompanying diagram)and/or alar cartilages that are splayed out instead of shaped in a neat triangular formation.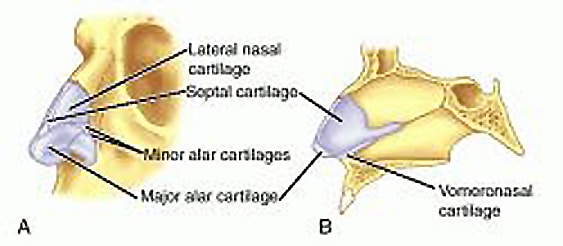 This anatomic situation can be exacerbated by a thick layer of oily, sebaceous nasal tip skin. Think of the latter as a sleeping bag as opposed to a thin silk sheet., draped over delicate structures
How does an experienced plastic surgeon correct the thick bulbous nasal tip during a nose job?


In my hands, I prefer performing a rhinoplasty utilizing an "open" approach because it affords me vital binocular vision so I can assess up to half-a-millimeter asymmetries that otherwise I would would be unable to appreciate utilizing a closed approach. The closed approach is one where the incisions are solely confined to the inner rims of the nostril, whereas an open approach utilizes the same aforementioned incisions in addition to a small hidden incision below the columella (that fleshy partition that separate the left and right nostril). The open approach allows me to see both the left and right nasal tip cartilages simultaneously so that any maneuver I would perform on the other can be immediately assessed with its opposite counterpart. Sutures are meticulously placed in a strategic fashion in order to change the shape of the cartilages from a round convex shape into more of a triangular one which, in turn, will translate to a more refined, elegant nasal tip. Think of assembling a ship in a bottle via strings, so to speak. The rhinoplasty surgeon cannot just bend cartridges, he must utilize sutures in order to shape them. This is part of the stock-in-trade of nasal tip/nasal cartilage manipulation.


Of course, some cartilage is removed as the surgeon sees fit. The importance of not being too aggressive cannot be overemphasized since doing so could result in an unsightly "pinched tip". Finally, it is more often than not necessary to "defat" the under surface of the thick sebaceous nasal skin that would accompany such a bulbous tip. This allows the thick "sleeping bag" to redrape more fluidly over the newly reconstructed nasal cartilages.

Swelling of the nose may take many months to even a couple of years to fully disappear. This does not mean that the patient would not enjoy the effects of a rhinoplasty before then. It is just that the skin can remain slightly swollen for prolonged periods of time. The last area for swelling to dissipate is at the nasal tip area. So even though great of a 95% of my patients love their nose at the 21st day postoperatively, some will say that they would like their nasal tip to become further defined. I may either inject some Cortizone underneath the skin to turbocharge the swelling to go away quicker or just recommend patients. Sometimes that's the hardest thing for inpatient to digest.

For more information, click here and here

See the following example:


BEFORE
AFTER
Bulbous nasal tip with long upper lip and facial atrophy
After a rhinoplasty (tip plasty), upper lip lift and complex facial fat transfer
---
Another example of an isolated bulbous tip with thin skin:
A classic bulbous tip with rather thin skinAfter a tip plasty utilizing suture cartilage molding as well as cartilage reduction.
After a tip plasty utilizing suture cartilage molding as well as cartilage reduction, Note the smooth nasal tip contour without any distracting shadowing.
Patient with a Bulbous tip and thin skin coverage
After tip plasty/rhinoplasty