Schapelle Corby spent nearly a decade behind bars in Bali's most notorious jail after being convicted of trafficking marijuana in 2005. But she has transformed her appearance since being released on parole four years ago, sparking rumors of cosmetic enhancements. Beverly Hills plastic surgeon Dr. Randal Haworth told Daily Mail Australia on Tuesday that he believes Schapelle Corby may have invested in some 'non-invasive work' to achieve her youthful looks.
'The most obvious changes are to her lips and cheeks,' Dr. Haworth observed, he believes 'her lips and cheeks have been well augmented, most likely with injectable fillers such as Juvéderm or equivalent.' Dr. Randal Haworth claimed he had a 'sneaking suspicion' that she may have had 'injections such as Botox to smooth out the lines and wrinkles around her eyes' after studying before-and-after photos of Corby Schapelle.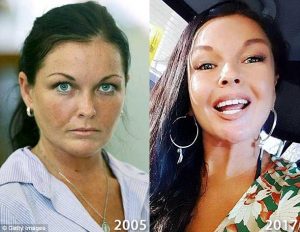 'A stint in an Indonesian prison would be a less than welcome holiday, so it's understandable that anyone would want a fresh start after that,' he said. 'It seems as if Ms Corby is no exception to that rule.'
Earlier this year, Schapelle denied having Botox injections or fillers. She told Woman's Day in March: 'No fillers, no Botox. I just use Snapchat and Instagram filters! I look at a photo of me and think, "Gee, that's ugly," and then I put a filter on it and think, "Actually, it's pretty good!" 'With the additional aid of Snapchat filters, her appearance is certainly one for the better,' Dr. Haworth concluded.