The Australian cricket ace, has always denied having a nip and tuck and instead credits his youthful appearance on his dedication to healthy living. Dr. Haworth says the giveaway is Warne's eyebrow shape as it's now 'reminiscent of Jack Nicholson's'. Shane Warne's changing face has sparked speculation for years that he's had plastic surgery.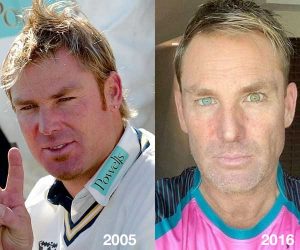 "I suspect that he has dabbled with Botox and perhaps some fillers here and there,"
Dr. Haworth told the Daily Mail.
"While women's faces tend to look younger and softer with the right amount of fat, men's faces tend to look better with weight loss. Shane's is no exception – his face has become more chiseled, defined and handsome,"
he stated.
"What's more interesting is the shape of his eyebrows. It has drastically changed from his younger self when his naturally low-set eyebrows were especially drooping at their outer edge."
When appearing on I'm A Celebrity in 2016, Warne denied having anything done to his face. He explained if he had cosmetic surgery then he would be happy to admit it.
Original Article