Rebecca Judd, is known for her glamorous and striking appearance. The Melbourne socialite has always denied plastic surgery rumors, a Beverly Hills plastic surgeon claims her flawless visage is far from natural. Dr. Randal Haworth said before and after photos suggest the Postcards presenter may have had
'cosmetic fillers'
or a
'fat transfer'
at some point.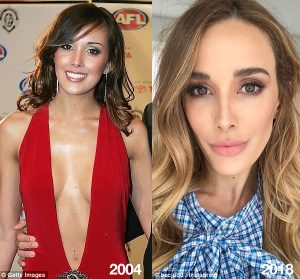 'Earlier, her eyes were deep set because they were surrounded by noticeable hollowing,'
Dr. Haworth said referring to photos of Bec from more than 10 years ago.
'My most age-defying patients who make looking beautiful as effortless as breathing are the ones who work at it the hardest.'
Daily Mail Australia has reached out to Bec for comment. In 2013, the mother-of-four acknowledged that she invests
'a lot of time, effort and cash'
into her appearance and said she gets
'shocking eye bags.'
She previously credited Melbourne skin clinic Liberty Belle for her glowing skin and gets everything from exfoliation to laser treatments. In 2008, Bec, who is the wife of former AFL star Chris, denied plastic surgery rumours.
Original Article