Catriona Rowntree, who looks like she has hardly aged since starting her TV career in her twenties, has never confirmed or denied having Botox or fillers. Dr. Haworth told Daily Mail Australia:
'It is only on close inspection that clues arise as to what she may have done to keep her appearance polished.'
The former Getaway host Catriona Rowntree has been a fixture on Australian television for more than two decades. Haworth has offered his expert opinion on how she has maintained her youthful complexion over the years.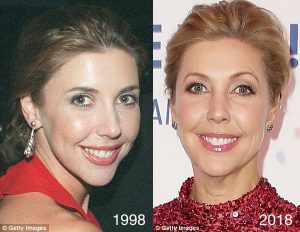 According to Beverly Hills plastic surgeon Dr. Randal Haworth, there are tell-tale signs that suggest she has had
'subtle'
procedures to her face.
'Over the years, Catriona is, what I call, a perennial beauty. Starting off as a radiantly attractive woman, any aesthetic procedures she receives must be subtle and "under the radar", so to speak,'
he explained.
'It seems that she hasn't aged one iota since the 1990s,'
Dr. Haworth added.
Original Article