Elle Macpherson, has been an advocate of natural beauty, crediting an active lifestyle and a plant-based diet as the secrets behind her age-defying appearance. Beverly Hills plastic surgeon Dr Randal Haworth, believes that Elle may have also undergone a few cosmetic procedures to maintain her effortless beauty over the years. Dr Haworth stated:
'The plan is simple when maintaining the beauty of an already beautiful woman. Elle's genetic blueprint is flawless, therefore a plastic surgeon would have to follow the plan to a "T", never veering away from her natural features.'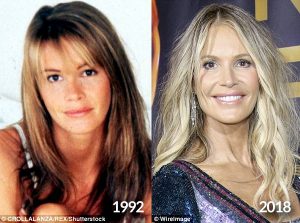 Dr Haworth believes that Elle may have had a subtle rhinoplasty in her thirties, resulting in
'a squared nasal tip flanked by vertical grooves extending down to her nostril rims'
. Dr Haworth also claims that she may have gone under the needle to enhance her already-striking visage.
'Her lips are fuller in a subtle way, indicating she may have had them plumped with an off-the-shelf filler such as Juvéderm,'
he claimed.
'These are some of the type of subtle "tweaks" that may have helped help Elle Macpherson radiate her natural beauty in a casual yet confident manner,'
he surmised. Elle has made no secret of her laissez-faire approach to beauty and aging, telling This Morning in June that she is proud of her natural look. In 2016, Elle admitted PEOPLE magazine that she had played around with cosmetic procedures to fight wrinkles.
Original Article