Beverly Hills plastic surgeon Dr. Randal Haworth believes Jodi Anasta may have enlisted some professional help maintaining her remarkably youthful appearance ever since debuting on Home and Away 13 years ago.
'Even the most naturally beautiful women in the world get plastic surgery or cosmetic treatments to enhance their already stellar looks,'
Dr. Haworth told Daily Mail Australia exclusively this week.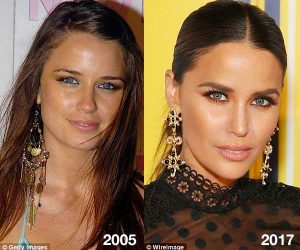 Dr. Haworth claimed that Jodi may have undergone a subtle nose job and dermal fillers to fine-tune her facial proportions.
'Even though her nasal tip still leans leftwards as it did in her younger years, I suspect she underwent a subtle rhinoplasty to narrow her tip and bony bridge of her nose,'
he explained. Earlier this week, Jodi spoke candidly about her struggles with body confidence, telling The Kyle and Jackie O Show that she has
'many flaws'
. The Neighbours star went on to explain that she puts a lot of pressure on herself to look and feel good.
'Good plastic surgery is invisible and indeed, it took me a while studying her photographs to detect clues as to what she may have had done,'
Dr. Haworth said. He added:
'Also, her award-winning smile seems to have been highlighted by fuller lips, likely achieved with a filler such as Juvéderm. 'Not only did it plump up her lips but it also subtly decreased her visible gumline above her upper teeth.'
Original Article