Dr Haworth claims Home and Away star Ada Nicodemou, 41, has stayed 'on point' in her career thanks to 'various non-surgical cosmetic treatments'.
However, he also believes the mother-of-one has undergone a breast augmentation, in addition to using fillers and Botox.
While Ada is yet to reveal whether she has gone under the needle, she has previously supported the use of enhancements in an interview with Daily Mail Australia.
'I just think everyone should do whatever makes them feel good… I have no judgement on [Botox] whatsoever,' she said.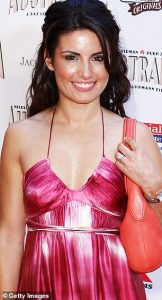 Ageless: Dr Haworth claims Home and Away star Ada Nicodemou, 41, has stayed 'on point' in her career thanks to 'various non-surgical cosmetic treatments'. Left: in 2008. Right: in 2017