Needling treatment also known as CIT (which stands for collagen induction therapy) has actually been around for quite a long while now. It is truly a low-tech device but it has found a new place in my bag of aesthetic tricks.
Why? Simply because it works. It seems to be the most effective procedure in this day and age to reduce stretch marks (striae distensiae), firm and elevate  tissue(knees, elbows, buttocks etc.), reduce scars (including acne ones), reduce hyperpigmentation-all in all it seems to result in a healthy, more youthful appearing skin.
How does it work?
The patient starts applying fat-soluble vitamins A and C antioxidant oils to the skin two weeks prior to the planned procedure date. The fat solubility of these vitamin oils allow them to penetrate human epidermis and dermis far more effectively that many of the other available competing products. These in turn stimulate the skin to produce more collagen and rejuvenate their elastin component. The device (which is basically a roller with approximately 200 needles attached to it perpendicularly) is then utilized to produce tens of thousands of small needle marks penetrating into the dermis. This in turn, induces a cascade of collagen production, the effect of which is amplified by the combined use of the antioxidant vitamins. In a way, the roller is not only producing a controlled injury to the skin but also acting as a very efficient drug delivery system.
I generally recommend a number of treatments to get the most optimal results. Here's just one example of the fairly dramatic effect one could achieve by this methodology. The woman had undergone myriad laser treatments to reduce her stretch marks, but to no avail. After just two Roller treatments, she achieved the following result.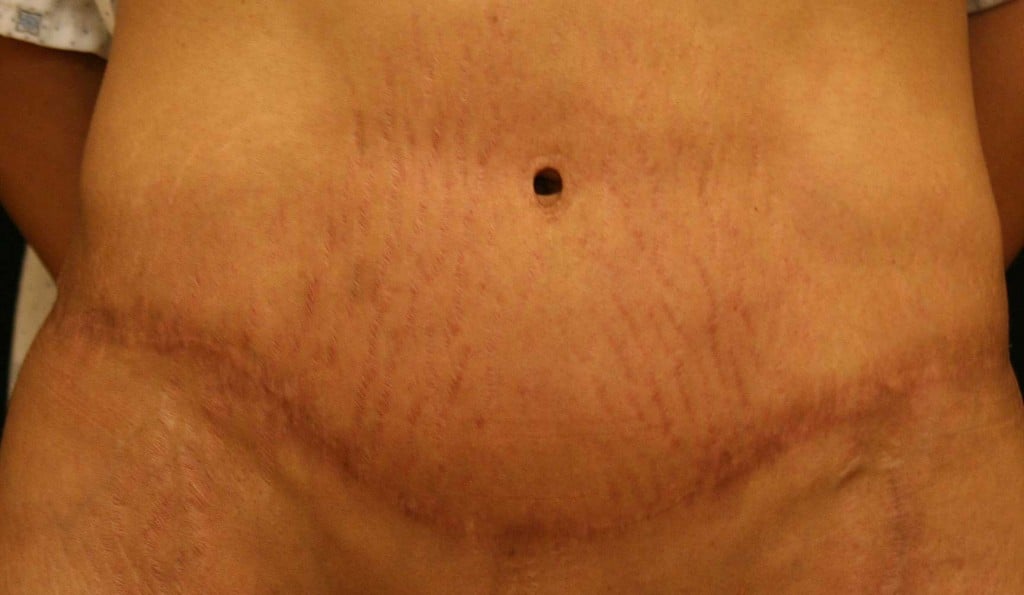 For further information about CIT, needling therapy, call the office of Dr. Randal Haworth (310 273 3000) located in the Haworth Institute.