ENTERTAINING
A party that raises eyebrows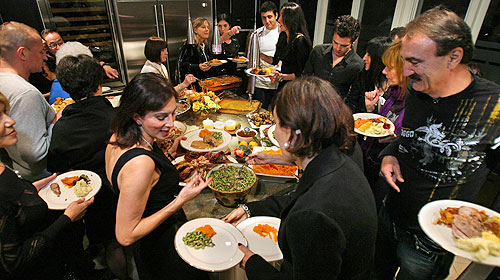 Ann Johansson / Los Angeles Times
Guests gather around a buffet at the home of eyebrow guru Anastasia Soare.
A renowned salon owner and a chef team up for an annual celebration of fine food, good cheer and Champagne aplenty.
AS Anastasia Soare languished in communist Romania in the 1980s, waiting for an exit visa for herself and her young daughter, she never imagined she would be here, dressed in a hip-hugging Chanel jacket and patent leather Bottega Veneta boots, receiving friends at her Beverly Hills home for a holiday party.
"I didn't even know what Bottega Veneta was," Soare says, a flute of Veuve Clicquot Champagne in her hand as she mingles with guests, including former Olympic gymnast and fellow Romanian Nadia Comaneci, Beverly Hills plastic surgeons Randal Haworth and Frank Ryan and gossip girl Janet Charlton.
Soare throws the annual party with organic chef Beth Ginsberg, and the women have perfected their duet over the last seven years. But receiving 40 guests for dinner is a high-wire act, and until minutes before the first arrivals, Soare was still dressed in sweats, dye painted on the roots of her jet black hair as she scattered gold leaves, glittery glass berries and real tangerines down the center of the four dining tables, one placed poolside under heat lamps for the smokers — this would be, after all, a very European crowd.
In the kitchen, as her assistants open bottles of Australian Shiraz and label platters with the dishes they will cradle, Ginsberg kicks off her Manolos and transfers two 19-pound turkeys to another pan to capture drippings for gravy.
"I only use hens," says Ginsberg, who co-wrote "The Taste for Living" cookbook with Michael Milken. "They're juicier and plumper than toms." These were the largest hens that L.A. butcher Harvey's Guss could find — plenty big, it turns out, given that two legs of lamb are simmering in the adjacent oven, to be served with a pomegranate sauce.
Ginsberg met Soare at Anastasia Beverly Hills, the beauty salon that Soare opened 10 years ago. These days Ginsberg waits patiently for the eyebrow guru, as Soare is known, alongside the likes of Sharon Stone, Penelope Cruz and Reese Witherspoon.
Soare's cosmetic line is overseen by daughter Claudia, now 29, a dark-haired beauty with piercing azure eyes. As her mother drifts down the circular staircase from the master suite, gliding past the scarlet wall covered with Picasso drawings, Claudia sips a rum and Coke and awaits the arrival of her fiancé, Bartolomeo Ruspoli, son of the Italian prince who supposedly inspired Fellini's "La Dolce Vita."
Ruspoli's mother, Debra Berger, chats with LA Weekly founder Jay Levin at the bar in the den, nibbling on smoked salmon with goat cheese on dried fruit and nut crackers. Along one wall, Ginsberg's over-the-top desserts beckon: pumpkin white chocolate cheesecake with a ginger cookie crust, chocolate hazelnut flourless cake with orange-zested gray sea salt. One guest pops a bite-sized brownie into her mouth. "Dining in reverse?" someone else quips.
In Romanian, Soare asks her niece and salon manager, Luca Popescu, to light more candles. The two women spent the previous night setting tables and arranging flowers: Casablanca lilies, orchids and bunches of multicolored roses, their stems cut short.
"We were up until 2 in the morning, drinking Champagne," Soare says with a laugh, taking another sip from her flute. She had arrived from Beijing on a Tuesday, waxed eyebrows all day Wednesday, and is hosting dinner just a day later.
Ginsberg, meanwhile, had spent the previous day in the Milken Family Foundation's Santa Monica kitchen, where for 13 years she has cooked for foundation events and the Milken family. After being diagnosed with prostate cancer in 1993, Milken "was looking for a chef who could cook soy and tofu," Ginsberg says.
"You mean someone who could cook soy and tofu and make it taste good," Claudia says.
Tonight, Ginsberg's soybeans are camouflaged with green peas and shiitake mushrooms in a truffle essence, complemented with equally healthful fare. "Everything's organic and low-fat, except the desserts," says the chef, citing the kabocha squash tart with caramelized shallots and figs.
This annual bash unfolds seamlessly because Soare and Ginsberg oversee only those tasks each loves. "She does the front of the house," Ginsberg says, "and I do the back."
A fire roars in the living room; the sun slides behind the hills surrounding the 5,000-square-foot midcentury home. Soare greets more guests with exuberance, making each one feel as though the party could never have come together without their presence.
"I was a perfectionist in gymnastics," Comaneci says, handing her toddler son to her husband, former Olympic gymnast Bart Conner. "Anastasia is a perfectionist in everything else."
On their way to the bar, guests peek into the kitchen to greet Ginsberg, now supervising the transfer of cuisine from pots to platters.
"Close the window, I don't want the food to get cold," Ginsberg yells. "I'd rather sweat to death."
The kitchen's green marble island is a blaze of color — roasted tricolor cauliflower, farro with orange and purple heirloom carrots. The scents are glorious. Guests fill plates, then sit wherever they please. "Everyone changes places, and we all get to talk to each other by the end of the night," Soare says.
Ginsberg throws off her chef's jacket, revealing a Diane von Furstenberg little black dress. She sits opposite the Bill Sofield sunburst mirror at the head of the long table in the living room.
The narrow table encourages guests to chat every which way, and the conversation is spirited. When Haworth opines on breast implants, all lean in closer. Guests want Comaneci, who recently wrapped "Celebrity Apprentice," to reveal who won, but her lips are sealed.
"Anastasia always creates an awesome interactive atmosphere," painter Alexandra Nechita says. "Even the people you don't know, you feel like you know."
When Paris Draghici takes out his violin, a hush falls over the room. A mournful melody by Sarasate changes the collective mood, but not for long. After the applause, laughter and banter again fill the room.
"Everybody brings their flavor," says Elham Shirazi, a city planner. "There's an underlying bohemian factor."
Guests are feeling an urge to move. Someone cranks up the Buddha-Bar CD.
Cognac? Grappa? Another glass of Champagne? Will Claudia belly dance tonight, someone wonders?
Nechita winks and smiles.
"It's only getting started," she says. "We're not smoking inside yet."
[email protected]