Know your nose job options: knife or needle?
So you had a nose job and you don't like the result. Now what are you going to do? You can always do nothing and live with the result. That's OK. That's your decision. You can go back to the original surgeon or to a new one (of course, one who is board certified by the American Board of Plastic Surgery). This plastic surgeon may feel you're a good candidate and give you two options: surgery (secondary or revision rhinoplasty) or non-surgery. In essence, the knife or the needle. Before your meeting with the plastic surgeon, you may think your only option at this point is
a revision rhinoplasty
with its attendant cost and recovery. However, this plastic surgeon rhinoplasty expert whom you chose to get a secondary opinion with, surprised you with his honesty, suggesting an altogether different approach to your nagging problem. He offered you a solution that involves less recovery, costs a good deal less and fixes your main concern…
  …and it doesn't involve surgery.
Your new plastic surgeon offered to inject
filler into your nose
to camouflage the irregularities, smooth and even out your bridge and even give you more of a chic tip. From the front view, by strategically injecting the filler to alter the light reflex and  control shadows your deviated nose can even be made to appear straight. He/she offers you a temporary or permanent filler. The
temporary ones
can serve as a dress rehearsal, so to speak, if you are unsure as to whether this is a good idea or not. Temporary ones such as hyaluronic acid  (e.g., Juvederm ®, Restylane ®, Voluma ®) or calcium hydroxyapatite (Radiesse ®)are good choices.
Permanent ones
such as Bellafill ®, Aquamid ® (not FDA approved) or fat transfer (a living transplant from your own body) are all excellent fillers in my opinion. You decide to go for it but you must be counseled to have realistic expectations. Fillers definitely cost less and involve less recovery (a few days of swelling and perhaps minor bruising at worst). However, the filler solution will:
1.
 Neither help breathing problems
2.
  Nor  will they treat all forms of aesthetic deformities such as this: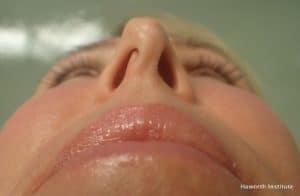 So the next time you're considering altering the shape of your nose with a rhinoplasty of some sort, you may ask your plastic surgeon (hopefully,  board certified by the American Board of Plastic Surgery) about the filler option. Albeit,  it cannot match the power of an actual surgical rhinoplasty, the non-surgical, filler rhinoplasty can be an excellent alternative to actual scalpel- based surgery in many select circumstances. In these cases, the needle can be more powerful than the knife as one can see below: