Rhytidoplasty
THE GOAL:
To smoothe out and improve the most visible signs of aging on lower two-thirds of the face. This includes the jowls, the "drawn out" sagging midface, jawline and neck.
TERMINOLOGY
A number of procedure variations fall under the rubric of face lift. To clarify:
FACE LIFT (rhytidoplasty, rhytidectomy or meloplasty) is the classic lay term for a traditional face lift which is supposed to improve the lower two-thirds of the face (plus the neck) The incisions are generally placed inside and around the ears.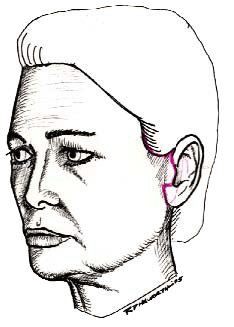 CAUTIONARY WORD:
The traditional face lift represents the gold standard by which all other facial rejuvenation surgeries are measured. Lately, there's been a lot of promotion for branded (that is, procedures that are trademarked, registered or copyrighted) short scar or other face lifts. Be aware of marketing for procedures that might not be very beneficial in the long run, and may in some cases, actually be harmful. While they promise and deliver surgeries in under an hour with local anesthesia, faster healing times and shorter scars, what they cannot do is achieve the satisfying long-term results of the more thorough approach of a classic face lift. Indeed, many of these "quick-fix" procedures result in bad skin draping, puckered closures, thick permanent ropey scars (albeit shorter!), altered hairlines, distorted ear canals and pulled-down ear lobes, all of which have to be corrected by subsequent surgery.
MID-FACE LIFT (subperiosteal endoscopic face lift) refers to the middle third of the face, that is, the area around the nose, beneath the eyes and around the mouth. 2 cm incisions behind the temporal hairline allow the use of an endoscopic (andmicroscopic) camera to guide tiny instruments that accurately lift and reposition the cheek and the soft tissue planes in a youthful manner.